aloha, (non existent) internet fanbase!
its summer. -i am fighting serious high school musical inspired urges to get up and start singing. WHAT TIME IS IT? SUMMER TIME! ITS OUR VACAAATION! (lol jks i'm way too lazy)-
anyway, if you live in the western/southern/ i'm bad at geography hemisphere and have no idea what im talking about, lemme break it down for you. out here in the blessed land that is india, we have three seasons, summer, not summer, and the beautiful -EXTREMELYDESTRUCTIVE- monsoon.
so yeah.
its summer.
anyway, i feel like writing about something different this time, instead of just going on and on about my eeshtupid life. and i was like, you have to write about summer. fun in the sun. but no. cause i don't like no sun. (except in the winter. haha. the grass is always -okay you get it). a majority of this summer is going to be spent thinking about fashion (more details later in the section called The Blissfully Uninteresting Paragraph Whichmostofyouwillskip About My Insanely Swagnificent Life). and, you guesssed it, i was like why not do a post about summer fashion. yeeeesss. may the force be with you.
My Favorite Spring/Summer Collections This Year


1) Runway/ Fashion Week (spring summer 2014)


Burberry Prorsum at London Fashion Week.
understated elegance. that is all.
check out the full collection
here
Just Cavalli at Milan Fashion Week
personally, i adore (most) of this collection, but it definitely isnt for everybody
Oscar de la Renta at New York Fashion Week
i freaking love Oscar de la Renta collections from the
bottom of my heart, and this one is no different.
more beeyootiful clothes
here
Christian Dior Haute Couture Paris Fashion Week
endlessly glamorous, effortlessly sophisticated.
all together a wonderful collection that screams NEW while still being inspired by the old,
and can i just say, SILHOUETTES. wow.
Miu Miu at Paris Fashion Week
bright and bold and deliciously playful, this collection has me head over heels
A few random favorites from fashion weeks around the globe: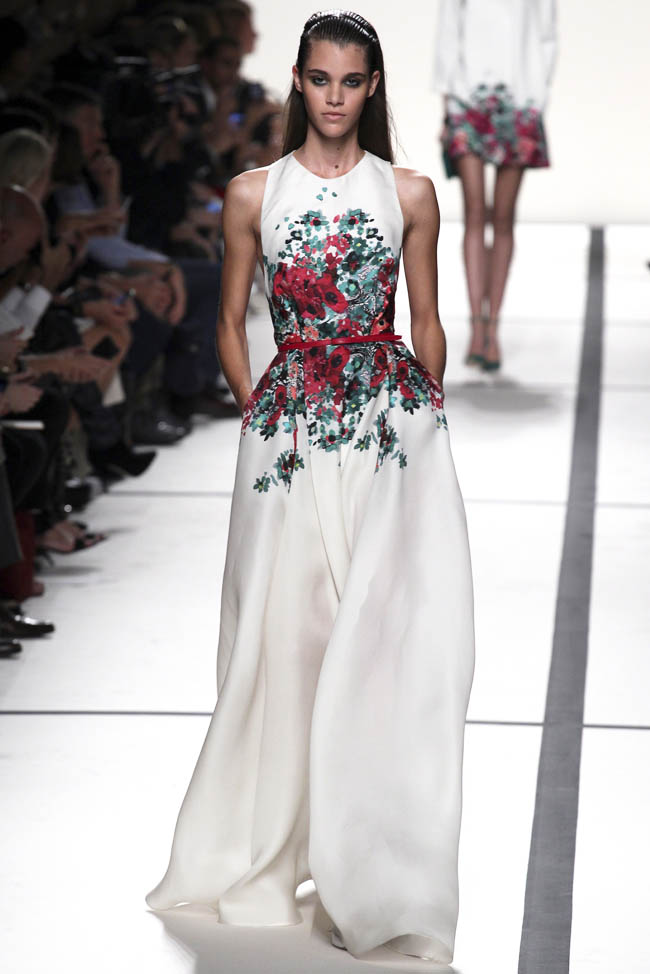 Ellie Saab, Paris Fashion Week
Chanel Haute Couture (best. show. ever. also, Cara Delevingne asdfghjkl)
Christian Siriano Runway Show
so my out and out favorites were definitely Miu Miu and Just Cavalli, with Oscar de la Renta coming in close behind. this summer seems to be all about light fabrics, great silhouettes and bold prints.
2) Campaigns
my definite favorites were:
Dior Spring Summer 2014 Campaign (more for the concept than the actual clothes)
and again with Chanel. also, how adorable is Lindsey Wixon?
i really wish i could get my hands on this collection somehow. oh well.
absolutely stunning campaign from Salvatorre Ferragamo
not that sure about the actual clothes tho.
..
gotta love motavator fashion (i realize this isnt high end but i had to give it a mention)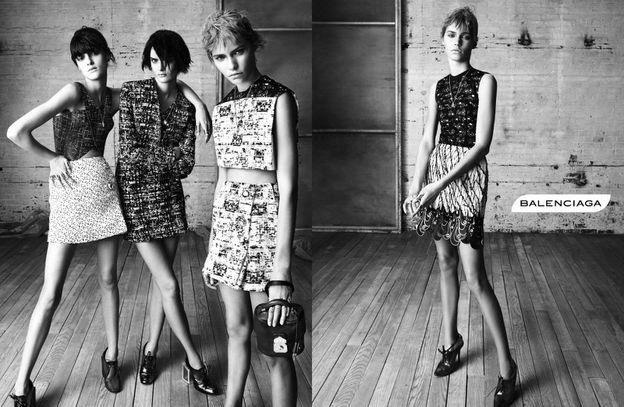 beautiful campaign is beautiful.
possibly my favorite ever. can we all just stop for a minute and appreciate that first blouse?
all in all, if i was super rich and people actually cared about what i wore, i would be freaking happy with the offerings of this summer.
The Blissfully Uninteresting Paragraph Whichmostofyouwillskip About My Insanely Swagnificent Life


well, i promised. and here it is. so. its summer. and im in the tenth grade, and in india you give this super important exam at the end of the tenth grade that is going to basically decide the rest of your life. actually, you give ELEVEN exams and called The Board Exams ( because they're organised by this central 'board' of education called the Increasingly Corrupt and Sadistic Establishment, or something) and i am going to have to pass them with flying colors next march. so yeah, i have to spend this entire summer studying. boohoohoo. and the reason that im going to have to spend time thinking about fashion is because my school is taking part in this fashion show competition and my best friend and i are in charge *does impromptu dance of victory and happiness and nearly drops laptop*. the theme for the show is 'yin meets yang' (dont ask) basically, opposites. and while i love fashion and fashion choreography and clothes and modelling and all that good stuff, im kind of desperately stuck for ideas. oh well. other stuff about my life that i will go through really fast:
DIVERGENT ASDFGHJKL
instagram loving xD ( @rujutasingh ) #followme #pleasestopyoujustsoundstupid
its summer (did i mention that already?)
rekindled love for Pretty Little Liars (ezria!!! )
bethany mota. i wuv bethany mota. (AEROPOSTALE COLLECTION IS WOOOW)
and lastly, i want to go shopping.
go break hearts, my lovelies! xoxo <3
p.s. I HAVE A CARA DELEVINGNE OBSESSION BC EYEBROWS THAT IS ALL